Though many feel lost in a terrible sea, members of Gardendale-Mt. Vernon United Methodist Church were reminded on Jan. 13 that Jesus Christ is in the boat with them.
Just days after their pastor, the Rev. Terry Greer, was accused of shooting and killing his wife and wounding his daughter, worshippers came through the doors of their church seeking comfort and answers.
Bishop Debra Wallace-Padgett, episcopal leader of the North Alabama Annual (regional) Conference; the Rev. Bob Alford, superintendent of the conference's Central District; and the Rev. Jeri Hunt, interim pastor of Gardendale-Mt. Vernon, offered words of healing in all three worship services.
On Jan. 10, according to police reports, Greer, 53, shot his wife, Lisa, 52, and daughter, Suzanna, 18, while in the church's parsonage. Lisa Greer died of her wounds later that night. Suzanna Greer reportedly took the gun from her father and ran to a neighbor, who called police. Rev. Greer then took a kitchen knife, went into the bathroom, and repeatedly stabbed himself in the neck and chest.
Suzanna Greer, a college freshman, was released from the hospital and is staying with family friends. Rev. Greer is still in the hospital with warrants for murder and attempted murder against him. As church members prepared to go to Sunday worship, local news channels were leading with the news of the shootings.
'My heart breaks for the people'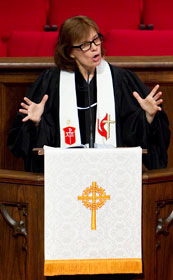 Bishop Debra Wallace-Padgett gives the sermon during worship.
"This church is facing a difficult time, but we are blessed to come into the house of God," Hunt said. "Despite what has happened, we are still the body of Christ." Hunt has been serving as interim pastor at the church since early December while Rev. Greer was on medical leave.
Wallace-Padgett told worshippers there was no place she would rather be on this Sunday morning than with them. But she also added she hoped she never sees another church under her care have to deal with a situation like this again.
The bishop said she looked at many Scriptures trying to find the right word for her sermon. She said Mark 4 - the story of Jesus calming the Sea of Galilee - seemed most appropriate. She said there are parallels between that ancient story and what this church is facing.
"We are in a ferocious storm, and it has left us feeling off balance," she said, adding that just as Jesus stayed in the boat and calmed the seas, he will do the same for us.
"My heart breaks for the people of this congregation, for the Greer family and all their friends that are in such pain," she said.
During each of the services, members of the congregation came to the altar to pray and comfort each other. Many hugged and whispered to each other, "We will get through this; we will be stronger."
After the end of each service, the pastors also announced funeral arrangements for Lisa Greer and plans for a fund for Suzanna. Visitation will take place from 6 p.m. to 8 p.m. on Jan. 14 at Scottsboro Funeral Home. The funeral will be at Scottsboro First United Methodist Church at 2 p.m. Jan. 15.
Donations can be made to the Suzanna Greer Fund and sent to the North Alabama Conference of The United Methodist Church at 898 Arkadelphia Road, Birmingham, AL 35204.
Moving forward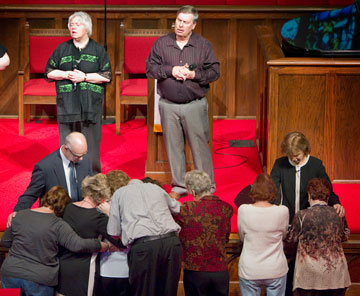 Bishop Debra Wallace-Padgett (right) and the Rev. Bob Alford pray with parishioners during the closing hymn.
Wallace-Padgett and the Rev. Sherri Ferguson, executive director of pastoral care and counseling for the conference, met with local media in a news conference after the last worship service. She said the conference is in the planning stages of finding another pastor for Gardendale-Mt. Vernon and will announce that soon.
In an interview with United Methodist News Service, the bishop said Greer had some physical health issues for a number of weeks. "We anticipated those would be short-term, but it went longer than expected. He has had some issues that popped up over the course of the past few weeks."
Hunt said many in the church had been concerned about the family; Lisa and Suzanna had not been attending Gardendale-Mt. Vernon during Greer's illness. The family "wanted their privacy," she said.
"This is a community of faith that is in shock," said Ferguson. Ferguson and other counselors have been on hand since the news of the shooting. Four counselors were in the church's fellowship hall from 8 a.m. to noon Sunday and more will be available during the week.
Ferguson said she was also preparing some tips for parents about how to talk to their children about the pastor and his family.
"I have seen about 75 people, that's eyeball to eyeball," Ferguson said. "But that is just a drop in the bucket." She is working on the short-term pastoral care but also is developing a yearlong program for the church and staff.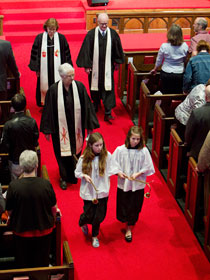 Clergy follow the acolytes out of the sanctuary after worship. Bishop Debra Wallace-Padgett, who gave the sermon, is at left rear. She is flanked by the Revs. Bob Alford (right) and Jeri Hunt.
Greer was appointed to Decatur First United Methodist Church for nine years before being appointed at Gardendale-Mt. Vernon. Wallace-Padgett and Ferguson said members of that church also have been receiving pastoral care.
"They are a body of Christ we want to make sure has care," Ferguson said.
Wallace-Padgett said Greer has been in the North Alabama Conference for a number of years and has many friends. She also said people from around the world have been calling and sending messages that they are holding the congregations in prayer.
"This experience is a visible reminder what power there is in the connection," she said. "I want to thank the people across Methodism for their love and support."
*Gilbert is a multimedia reporter for the young adult content team at United Methodist Communications, Nashville, Tenn.
News media contact: Kathy L. Gilbert, Nashville, Tenn., (615) 742-5470 or [email protected].
---
Like what you're reading? Support the ministry of UM News! Your support ensures the latest denominational news, dynamic stories and informative articles will continue to connect our global community. Make a tax-deductible donation at ResourceUMC.org/GiveUMCom.