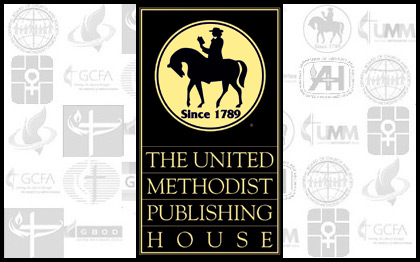 1. One issue to be debated at General Conference is restructuring. What would the church miss if your agency no longer existed?
As the United Methodist Publishing House is a partner in ministry with United Methodist churches, annual conferences, seminaries and general agencies, the list of products and services that are developed and/or distributed through Cokesbury and Abingdon Press is long and varied. It includes United Methodist resources of every type - music (including The United Methodist Hymnal), study materials, Sunday school curriculum, vacation Bible school programs, Wesley studies resources, preaching and worship resources, Christian leadership and spiritual growth books and programs, stewardship campaign materials, Advent and Lenten studies and other church programs, reference works, Bibles and Bible reference materials, seminary textbooks and Cokesbury stores, Cokesbury.com, Ministry Matters and more.
For example, unique to our ministry are materials for United Methodists that are especially designed for the life of the church, such as "Three Simple Rules" by Bishop Rueben P. Job, "Five Practices of Fruitful Congregations" by Bishop Robert Schnase, "Transformed Giving" by the Rev. John Ed Mathison, "24 Hours That Changed the World" by the Rev. Adam Hamilton, the Wesley Study Bible, Kingswood Books, The United Methodist Hymnal, Worship & Song and official United Methodist curriculum for children, youth and adults (the adult materials produced in English, Korean and Spanish).
2. What is your agency's primary mission? How do you accomplish this in the most effective manner?
The United Methodist Publishing House was the first agency established by the church in the United States, founded in 1789 and operating continuously to fulfill the mission as stated in the Discipline (Par. 1613): "The objectives of The United Methodist Publishing House shall be: the advancement of the cause of Christianity throughout the world by disseminating religious knowledge and useful &ellipsis; information." We are also charged by the church to be completely financially self-sustaining. In the last 50 years, we have contributed approximately $50 million toward United Methodist clergy and dependent pension support through distribution of our net proceeds.
Bishop Jack Tuell, in his book "The Organization of the Methodist Church," states, "The United Methodist Publishing House enjoys the distinction of being the oldest continuing enterprise of the church since it originated in 1789." All of its products are for Christian teaching and support, and we serve the large body of practicing Christian people. We have an ecumenical reach that includes our role as the official distributor of materials from the Presbyterians, Episcopalians, The Christian Church (Disciples of Christ) and others. We accomplish this broad and complex mission by publishing and selling resources for congregations and their leaders across a spectrum of categories, pedagogies and theological perspectives. Abingdon Press, the Common English Bible and Cokesbury together provide Bibles and hymnals, curriculum for every age and setting, church supplies from pews to candles, academic textbooks for seminaries and universities, Christian nonfiction and fiction books for individuals and group study, and much more available through Cokesbury stores, catalogs and Cokesbury.com, as well as through other retail outlets.
Simply put, our goal is to help more people in more places come to know God through Jesus Christ, come to love God and choose to serve God and neighbor.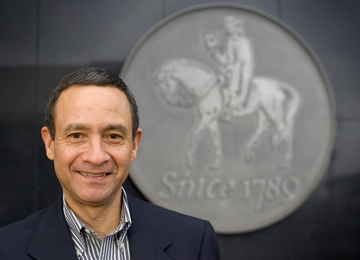 Neil Alexander. A UMNS photo by Mike DuBose.
3. Name at least one exciting thing in which your agency has been involved during the current quadrennium. How does it relate to the Four Areas of Focus?
A major effort this quadrennium has been the new English-language translation from the original texts and publication of the Common English Bible. The CEB was conceived and managed by the United Methodist Publishing House, employing a diverse team with more than 117 scholars from 22 faith traditions. This bold translation is crafted to meet the needs of contemporary Christians as they grow in relationship with God through Jesus Christ.
"I find the Common English Bible refreshing because the translation communicates with the language and idioms that real people use in worship and Bible study," said the Rev. Rudy Rasmus,pastor, St. John's United Methodist Church, Houston.
"The biblical scholarship is impressive," commented the Rev. Jan Love. "The language is smooth and readable. I commend the Common English Bible to every church and pastor." Love is dean and professor of world Christianity and politics at Candler School of Theology, Atlanta.
Other major ventures include a new line of books that provide inspiration, modeling and guidance for Christian living; resources for congregational life (building on the success of DISCIPLE and Transformed Giving, for example); digital access to a broader collection of music (Worship & Song) for congregational worship; digital textbooks for seminary and college use, and more.
4. How does the average United Methodist pastor or member benefit from your agency's work? Social advocacy? Curriculum? Scholarships? Please give a concrete example, ideally quoting a testimonial from someone outside your agency.
This letter was written by Bill Graham, a teacher of adult Bible studies, to the writers of the fall 2011 lessons:
"In preparing to teach the Oct. 2 lesson, there was a statement that got my attention. It said, 'We might be able to control (bad behavior) by persuasion and civil law &ellipsis; but if we ignore the role of the heart, we miss the root of the problem.'
"During my 32 years with the school board, I worked as the truant officer. I was passionate and diligent in my efforts to see that children attended school on a regular basis. After eight years, it dawned on me that for the most part my efforts were ineffectual. Even though a great deal of resources had been brought to bear upon each case that removed all excuses of noncompliance - when the pressure was off, the truant families slipped back into their old habits.
"Civil authorities are not authorized to work on the heart, but the church should. When I was a child growing up &ellipsis; people were in the grip of abject poverty, yet in the old country churches under strong preaching, people came forward at 'altar call' weeping and repenting of their sins, and many had a real change of heart. They abandoned peccant behavior and lived the best they could in what they understood to be the will of God.
"On a personal level - your lesson taught me: Even if I hear and understand the best of teachers in our faith and do not allow it to affect my heart - then little has been accomplished."
5. How much money and how many employees does it take to maintain the work your agency is currently doing?
The United Methodist Publishing House is a fully self-supporting agency of the church receiving no general church funds whatsoever. With a staff of more than 650 people and with an annual budget of $90 million, it is one of the two largest and most robust Protestant church denominational publishing and retailing ministries in the United States
Learn more: Website of the United Methodist Publishing House
For more information, visit the 2012 General Conference website.
---
Like what you're reading? Support the ministry of UM News! Your support ensures the latest denominational news, dynamic stories and informative articles will continue to connect our global community. Make a tax-deductible donation at ResourceUMC.org/GiveUMCom.