In the 2012 graduating class at Africa University in Zimbabwe, Chiedza Dziva and seven other women finished at the top in fields ranging from business to agriculture.
In most African cultures, education for women has not been a top priority, but at this United Methodist-related university it has been a goal for the past 20 years.
"It feels like a miracle that I passed not only top of my class, but overall best student at Africa University," said Dziva. "I am greatly honored to be leading the light to my fellow sisters out there as women continue to make strides in business, politics and various other areas of expertise."
More than 400 students graduated from the United Methodist-related university, June 9, becoming the institution's 18th group of graduates since it was founded in 1992. The university is celebrating its 20th anniversary this year.
In the class of 2012, 116 received master's degrees and 284 bachelor's degrees. Of the graduating class, 48 percent were female, a demonstration of the high commitment that Africa University has to maintaining gender equity in its student body.
Dziva's future plans include a career in accounting or a graduate degree in finance.
The commencement speaker, Geoffrey Onyeama, an official with the World Intellectual Property Organization, told the graduates to use their imagination, innovation and creativity to become the next generation of entrepreneurs.
He told the students that a philosopher once said imagination is more important than knowledge. "I believe you young graduates should embrace this school of thought as Africa's future leaders."
Dziva feels the university has trained her to be an entrepreneur. She was a member of the Students in Free Enterprise, the League of Entrepreneurs, and Baobab clubs at Africa University that seek to empower and impart entrepreneurship to young people. She believes the charge by Onyeama to lead, innovate and create is timely.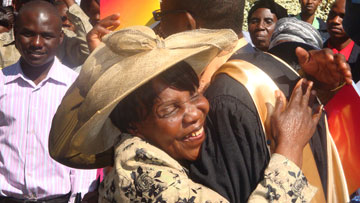 There was no shortage of congratulatory hugs and smiles during the June 9th commencement ceremony that also marked the 20th anniversary of Africa University.
"I think as leaders, we should set a good example and be able to be masters of our own destiny. The onus is on us to be innovative and create a good economic foundation for ourselves and those who will come after us," she said.
Macmillan Zingoni was also at the top of her class, earning a degree in agribusiness from the Faculty of Agriculture and Natural Resources. She said that for a long time, women were marginalized in the sciences, and her achievements are an illustration of what women and girls can do once given the opportunity.
Pan African institute
Africa University is a Pan African institute, and two more of the class of 2012 came from the new nation of South Sudan, which just won its independence last year.
"It means a lot for me to have this degree," said Bill Wan Yual Dhuor, who graduated with a degree in humanities and social sciences. "I am from the South Sudan and I thank God for this opportunity at Africa University. This journey has opened my eyes and I will continue to cherish it."
Dhuor hopes to return to the South Sudan and in his own way, help in the reconstruction of the young nation.
Fellow countryman Majok Majok, who graduated with a degree in social sciences, said the degree from Africa University has given him hope. Majok also wants to return home.
"Just getting this education that some of the South Sudanese are not able to get at this time makes me have hope in a lot of things. Hope that other young persons like me can achieve their dreams and hope that we will be able to build a new South Sudan which is peaceful.
"A lot of times, you have so many talents, but I think what lacks in most people is the courage and confidence to take a hold of those dreams and make them a reality. Most people want to remain in their safe zones, but I think we have a responsibility to be bold and to do something different," Majok said.
The vice chancellor of Africa University, Fanuel Tagwira, urged the graduates to go out and make positive contributions to society as responsible citizens.
"Let this not be the end of learning. Make this the beginning. A scholar called Alvin Toffler said the illiterate of the 21st century will not be those who cannot read and write, but those who cannot keep learning, unlearning and relearning.
"Go out to your respective countries and be good ambassadors of Africa University," he said.
*Nondo is director in the office of information and public affairs at Africa University in Mutare, Zimbabwe.
News media contact: Kathy L. Gilbert, Nashville, Tenn., (615) 742-5470 or [email protected].
---
Like what you're reading? Support the ministry of UM News! Your support ensures the latest denominational news, dynamic stories and informative articles will continue to connect our global community. Make a tax-deductible donation at ResourceUMC.org/GiveUMCom.