Two African writers were named 2014 United Methodist Communicators of the Year for their coverage of the deadliest Ebola outbreak in history.
The United Methodist Association of Communicators gave the association's top award to Phileas Jusu, communicator for The United Methodist Church in Sierra Leone, and Julu Swen, editor and publisher of West African Writers, an online publication about United Methodist happenings in West Africa. Swen also assists the denomination in Liberia with coverage for United Methodist Communications.
There was a standing ovation when the winners were announced.
Both Jusu and Swen expressed their thanks for the award via email. Jusu said he was "humbled by the award," which he said was a reflection of the joint effort between writers in Africa and the team at United Methodist Communications that provides support and resources.
"I thank you all for putting us on the map of effective communicators," he wrote.
Vicki Brown, news editor for United Methodist News Service, praised their coverage of the outbreak that has now claimed nearly 5,000 lives, mostly in Liberia, Sierra Leone and Guinea.
 "Phileas and Julu are brave men," Brown told UMAC members. "When they travel to cover the church's anti-Ebola efforts, they increase their chances of being exposed to a virus that claims the lives of 7 out of 10 people who get it."
"Their contributions have ensured that United Methodist News Service's coverage has been centered on West Africa, where the real fight is occurring."
2014 UMAC Award Winners
No strangers to crisis
Neither writer is a stranger to crisis.
Brown noted that Jusu's writing career began in 1996 after rebel soldiers invaded the campus of Njala University College during the 1991-2002 civil war. Jusu, who had been writing for a tabloid, said he stayed on to report on the war, the economy and politics because, "practically speaking, I did not have many options."
Swen worked for the Truth and Reconciliation Commission of Liberia as an inquiry officer, conducting interviews with victims and perpetrators of Liberia's civil war, which involved two conflicts that ended in 2003. He also researched issues related to the war, including controversial issues addressed by the commission.
Jusu worked as a referral and counseling officer for Sierra Leone's National Committee for Disarmament, Demobilization and Reintegration, arranging training for ex-combatants to help them learn new trades. He joined the denomination's Sierra Leone Conference staff in 2005.
Two of Jusu's three children provided voices for the Ebola animation created by Chocolate Moose Media and mobile-health-education innovator iHeed in collaboration with United Methodist Communications.
"His planned Nov. 30 wedding to Jennifer had to be postponed because of Ebola. Large crowds cannot gather, so they are tentatively making plans for an April ceremony," Brown said.
"I hope you will make a special place in your prayers for these two communicators and their families, as well as the many who are dealing with this deadly virus and the devastation of the economy in West Africa," Brown asked of those gathered for the awards presentation.
Awards of Excellence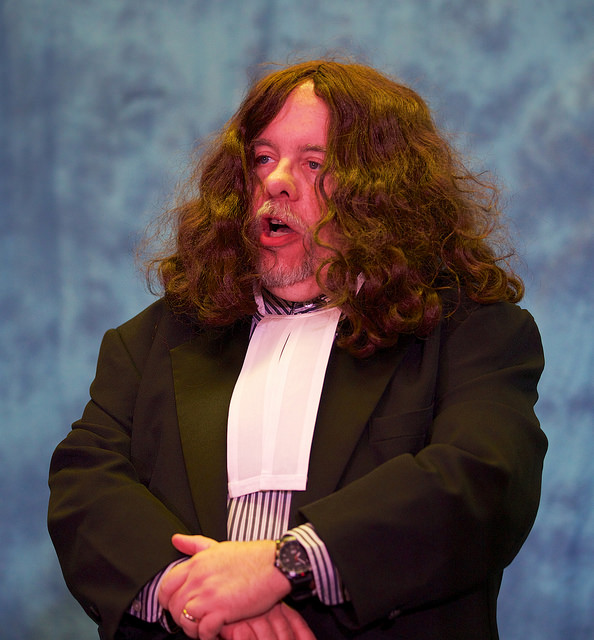 On a lighter note, John Wesley (played by UMAC President Neill Caldwell) welcomed the group to Savannah. "I hope you have better luck here than I did," he said, referring to Wesley's unsuccessful ministry of two years in Savannah.
In other awards, United Methodist Communications claimed five Awards of Excellence, including awards for print and digital publication, writing, photography and the new umc.org website.
Awards of Excellence also went to Discipleship Ministries and staffs of the Iowa, Michigan, Kentucky and Minnesota conferences.
Awards of Excellence winners:
Kathy Noble, Barbara Dunlap-Berg, Joey Butler, Kathleen Barry and Mike DuBose of United Methodist Communications received the Robert F. Storey Award of Excellence for a print publication for Interpreter Magazine.
The Digital Publications Award went to Barbara Dunlap Berg and Elsie Cunningham of United Methodist Communications for 40 Daily Devotionals for Lenten Journey: One Great Hour of Sharing Devotional Book.
The Donn Doten Award of Excellence for writing went to Kathy Gilbert of United Methodist News Service for her story "Scars and Hope Emerging from Schaefer Trial."
The Internet Communications award was won by Poonam Patodia, Kay Panovec, Danny Mai, Fran Walsh, Shelia Mayfield, Lane Denson, Cindy Caldwell, Laurens Glass of United Methodist Communication, for the redesigned umc.org website.
Steve Horswill-Johnson of Discipleship Ministries (formerly the United Methodist Board of Discipleship) received The Hilly Hicks Award of Excellence for Video for "Resurrection."
The Audio Award of Excellence went to Art McClanahan of the Iowa Conference for his Audio Archive.
The Donald B. Moyer Award of Excellence for Photography went to Kathleen Barry, United Methodist Communications, for "Call to Live Differently."
The Visual Design Award of Excellence went to Kathy Williams of the Kentucky Conference for the 2014 OMC Brochure "Telling Our Stories."
The Leonard M. Perryman Award of Excellence for Publicity and Advertising went to Christa Meland and Amanda Willis of the Minnesota Conference for the "Reach. Renew. Rejoice." capital campaign.
Mark Doyal of the Michigan Conference received the Award of Excellence for Media Presentation for "The Africa University Umbuntu Presentation."

News media contact: Vicki Brown, news editor, [email protected] or 615-742-5469.
---
Like what you're reading? Support the ministry of UM News! Your support ensures the latest denominational news, dynamic stories and informative articles will continue to connect our global community. Make a tax-deductible donation at ResourceUMC.org/GiveUMCom.