Updated Aug. 19, 2011: A jury awarded Juana Villegas $200,000 for violations of her rights when deputies shackled her during labor and postpartum recovery in 2008. Her attorney, Philip Cramer, a member of Belmont United Methodist Church, asked for $1.2 million. The sheriff in the case said he plans to appeal. "As painful as reliving the events today and for this trial has been for Juana, justice has been done, and she will be able to receive some of the treatment that she needs," said Cramer after the announcement Aug. 18. Nashville's Justice for Our Neighbors, a United Methodist program that offers free legal advice to immigrants, has been involved in the case from the start.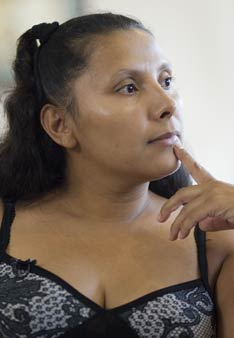 Juana Villegas' trip to the doctor for a prenatal visit became a nightmare when, at nine months pregnant, she was stopped for a minor traffic violation, jailed and ended up giving birth to her son with two sheriff's deputies standing guard.
An illegal immigrant from Mexico, she recalled her childbirth experience of July 6 when local authorities prevented her from calling her husband after going into labor and then separated her from her nursing newborn for two days after his birth.
"I don't want to talk about this, I don't want to remember," she told United Methodist News Service. "But I want to tell my story for all women. I didn't deserve this, and I don't wish for it to happen to anyone else."
Villegas' story gained national attention after advocates for immigrants began circulating e-mails about her arrest. The advocates included members of Belmont United Methodist Church, which have united with Hillcrest United Methodist Church to form a Justice for Our Neighbors (JFON) program. Together, they operate a legal clinic in Nashville for immigrants.
"We must step forward and shout to the rooftops a wrong has been committed," said Katherine Dix Esquivel, a Belmont church member and local JFON leader. "The suffering for her, her newborn, her husband and her family was unnecessary and cruel."
Local authorities, however, insisted that they followed protocol in the case, and noted that Villegas had been deported from the United States in 1996, only to return and give birth to three of her four children, all of whom are U.S. citizens.
Villegas, 33, was stopped on July 3 for driving "carelessly." She was arrested and jailed when she could not produce a driver's license and presented a vehicle registration that was registered to another person. Her three children, ages 14, 12 and 2were with her during her arrest by police in Berry Hill, a bedroom community of Nashville.
A night court commissioner reviewed the case and sent her to jail after a background check showed she previously had been deported.
Villegas went into labor on the night of July 5 and was taken to Nashville General Hospital, where she was handcuffed to the bed by her right wrist and left ankle until two hours before her son, Gael, was born on July 6. Six hours after the birth, she was shackled again, and a guard was with her at all times. Villegas returned to jail July 8 and was not allowed to take a breast pump, causing her breasts to become infected, according to her attorney. She did not see her baby again until her release on July 10.
'A very bad situation'
Speaking in Spanish, Villegas was interviewed by UMNS on July 24 in her lawyer's office while 3-week-old Gael slept peacefully.
Through her tears, Villegas struggled to describe her feelings about her experience that included being guarded by two male sheriff's deputies during her two-hour labor.
"I was treated like a criminal, and I didn't understand why I was being treated like that."

— Juana Villegas
"I wanted to call my family, but they said no and disconnected the phone," she said. "This was the fastest labor and delivery I have had. I have other children and was in labor for six to eight hours. I believe the quick delivery was brought on by the stress I was under."
She called her treatment "a very bad situation" that no one should have to go through. "I was treated like a criminal, and I didn't understand why I was being treated like that," she said.
Villegas came to the United States 14 years ago in search of a job and said she worked at a fast-food restaurant at one point. She lived in California for 10 years before moving to Nashville four years ago.
Nashville immigration attorney Elliott Ozment is working to keep Villegas from being deported and is considering legal action against local authorities. A hearing on the traffic violation is scheduled for Aug. 15 in Berry Hill Municipal Court.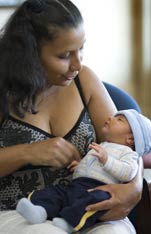 Berry Hill Police Chief Robert Bennett said the arresting officer "followed proper procedure" and arrested Villegas after making "the determination that a reasonable likelihood existed that she would fail to appear in court."
Davidson County Sheriff Daron Hall said his department frequently has pregnant women in custody and that Villegas was not treated differently from others who are classified as medium-security inmates. He said she received this classification because she had been charged locally and was found to be wanted by the federal government.
"An important factor in this case is that this woman had been previously deported from this country and she ignored that order and came back. Federal immigration authorities don't look lightly on this," Hall said.
Questioning the system
The United Methodist Church seeks justice for migrants worldwide and a reform of U.S. immigration laws that includes a pathway to gain legal status. The church also advocates for government policies that keep families intact.
Advocates for immigration reform said the Villegas case holds up a mirror to flaws in U.S. immigration law and proceduresand the need for the church to advocate for change.
"What happened to Juana just highlights we are not living up to our calling as Christians," said David Esquivel, also a member of Belmont United Methodist Church. "I don't think as a church the documentation status of anyone ought to be a dividing line. I see that the church has a witness on this issue."
"As Christians, we bear responsibility for what happened to Juana if we stand back and do and say nothing." —

Katherine Dix Esquivel
Justice For Our Neighbors is a network in mission of the United Methodist Committee on Relief, along with the denomination's annual conferences, local congregations and ecumenical partners. The United Methodist Board of Global Ministries launched JFON in 1999 as a response to increasingly complex immigration regulations stemming from the U.S. immigration law of 1996, which brought harsher policies for illegal immigrants.
JFON is among faith groups that plan to stand in support for Villegas during her Aug. 15 court appearance.
"As Christians, we bear responsibility for what happened to Juana if we stand back and do and say nothing," said Katherine Dix Esquivel.
"As citizens, we should hold our representatives accountable for passing comprehensive immigration reform on the federal level. We should also hold our local, state, and federal officials and representatives accountable for treating the immigrants in our communities with dignity and respect."
*Gilbert is a United Methodist News Service news writer based in Nashville, Tenn. Bachus is director of Spanish Resources and editor of el Intérprete magazine, United Methodist Communications.
News media contact: Kathy L. Gilbert, Nashville, Tenn., (615) 742-5470 or [email protected].
Video Interview with Juana Villegas
"I was treated like a criminal and I didn't understand why."
"Fui tratada como una criminal y no sabía por qué."
"I don't want this to happen to anybody."
"No quiero que nadie tenga que pasar por lo mismo."
---
Like what you're reading? Support the ministry of UM News! Your support ensures the latest denominational news, dynamic stories and informative articles will continue to connect our global community. Make a tax-deductible donation at ResourceUMC.org/GiveUMCom.