It's a really big job - overseeing health care for more than half a million people in 15 African countries - but 219 United Methodist health board members wake up and do it every day.
In addition to facing health crises like malaria, tuberculosis and HIV/AIDS, these volunteers also must worry about how to hire staff and how to get needed medication and other necessities to keep their doors open.
A Pan-African summit Aug. 13-17 was a welcome aid for 32 health board coordinators from countries where The United Methodist Church has annual (regional) conferences. The meeting, sponsored by The United Methodist Church's Imagine No Malaria campaign and hosted by the United Methodist Committee on Relief, was the third and largest training meeting for the African health boards started by UMCOR in 2009.
The task is enormous, but, with tears streaming down her face, Hannah Mafunda summed up the importance of the work.
"There is nothing so beautiful as people of God coming together and focusing on one cause and fighting for the life of people."
Mafunda is the health coordinator for the board in Zimbabwe. Her health board is one of three that recently received grants from Imagine No Malaria, the United Methodist initiative to eliminate malaria by 2015. Zimbabwe received $44,000; North Katanga in Democratic Republic of Congo received $48,000; and Nigeria received $50,000.
The grants provide more than just bed nets; they support a comprehensive approach to the fight against malaria, said the Rev. Gary Henderson, director of the Global Health Initiative, of which Imagine No Malaria is a part.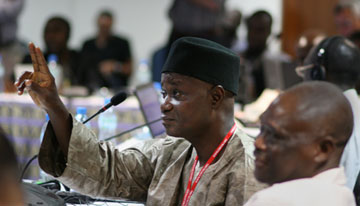 Training is key to success, Mafunda said. "If you have the heart but lack the skills, it will not come to pass."
Lazarus Iliya Filiya, hospital administrator for Nigeria's United Methodist Rural Health Project, told participants about his team's first attempts to apply for a grant.
"Our application was terrible, whole pages came back marked in red ink," he said, describing the problems with the application. "We started too big. Nigeria is too big - we needed to narrow to one project."
The project that won the grant was one that integrated the distribution of bed nets into maternal and child health care. Because of the success of that grant, the Ministry of Health in Nigeria now calls on The United Methodist Church for advice, he added.
"I want to eradicate malaria in my country. Trust us, we are going to come back with success stories," he said.
Patrick Mentor, a participant who is an accountant at Ganta Hospital in Liberia, said the conference was energizing. "It is teaching me how to take care of my own people."
Shannon Trilli, director of Global Health Initiatives for UMCOR, said it has been encouraging to watch the health boards gain confidence in their ability to speak for their communities and demand the resources they need.
"Malaria is not just something 'they have in Africa.' We are one church, one family, we all have malaria," she said.
Finding the money
Funding is one of the toughest challenges facing these health boards.
The United Methodist Church operates more than 300 hospitals, clinics and health posts throughout Africa. Many of the hospitals and clinics were started by United Methodist missionaries from the United States more than 100 years ago.
Those missionaries had the technical skills to work with governments, apply for grants and monitor the funds coming in from donors. When they left, the clinics often struggled because the people left behind didn't have those skills, explained Nyamah Dunbar, grants officer of Imagine No Malaria.
The United Methodist health boards are made up of people with professional skills in finance, accounting, legal and regulatory, medical, community, technology, hospital or clinic management and grant writing, Dunbar said.
Countries represented at the 2012 summit were Angola (west), Democratic Republic of Congo, Uganda, South Sudan, Rwanda, Burundi, Ivory Coast, Liberia, Mozambique, Nigeria, Sierra Leone, Zimbabwe and Malawi. Each country is encouraged to customize its anti-malaria efforts to meet the needs of its own people.
Building skills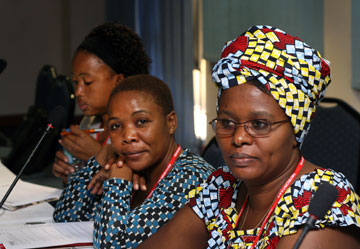 Partnering organizations that participated in the summit included Curamericas Global; the U.N. Foundation and Nets for Life.
"The United Methodist Church and Imagine No Malaria are far exceeding any other faith-based organization," said Michael Pajonk, director of organizational partnerships for the U.N. Foundation.
Workshop leaders emphasized that the skills participants were learning would translate to applying for other grants and for appealing to donors.
"The days are over when outsiders show up and take over," Trilli said. Providing the countries with the skills they need to resolve issues in their communities is a fundamental shift that has been happening over the last four years since the church took on the challenge to raise $75 million and end suffering and deaths from malaria by 2015.
Henderson said watching health professionals engage with Imagine No Malaria was "thrilling."
"It was clear to me that Imagine No Malaria has increased our ability to really be part of the global village," he said. "Imagine No Malaria is a connecting place on so many levels that invites us into a larger reality in terms of what it means to be the family of God."
*Gilbert is a multimedia reporter for the young adult content department at United Methodist Communications.
News media contact: Kathy Gilbert, Nashville, Tenn., (615) 742-5470 or [email protected].
---
Like what you're reading? Support the ministry of UM News! Your support ensures the latest denominational news, dynamic stories and informative articles will continue to connect our global community. Make a tax-deductible donation at ResourceUMC.org/GiveUMCom.