Strolling through the busy village of Kpetewoma, Idrissa Kamara is a magnet for children who want to know when schools will reopen.
This affable principal of the Joseph and Carolyn Wagner United Methodist Secondary School chained and locked his classrooms last July when the government ordered all schools closed in an effort to slow the transmission of the deadly Ebola virus. For more than nine months, his students have languished.
"We are losing a whole generation of pupils because of this Ebola. Since we have lost a whole academic year, some very clever students who were going to school are no more going to school," Kamara says.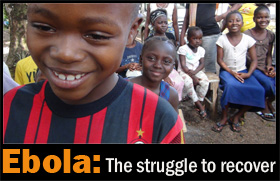 The Sierra Leone Conference of The United Methodist Church operates more than 300 primary and 50 secondary schools.  As a major player in educating the nation's children, the church participated in the reopening of schools on April 22.
Some people believe the action is premature and do not want schools reopened now because Sierra Leone, unlike neighboring Liberia, has not been declared Ebola-free.   "I am one of those people who is very apprehensive about that," says Bishop John K. Yambasu. "One Ebola-infected child could throw this country back into another vicious cycle of infection and transmission."
As locks came off the classrooms, there were suddenly more considerations and expenses facing the church.
In many schools, clean water is as scarce as updated textbooks.  But multiple hand washing stations are still necessary to keep Ebola at bay. Teachers armed with a few infrared thermometers must take time out of instruction to serve as health monitors ready to sound the alarm if a student shows signs of fever. And, because schools were padlocked for so long, furnishings and supplies stockpiled in sweltering conditions have deteriorated.
Kamara is also concerned about the shortage of qualified instructors. During the height of the outbreak, many teachers took higher paying jobs with non-governmental organizations (NGOs). "And if they decide to stay there permanently, then we have lost a lot of teachers," he says.
There are strong United Methodist partners in the United States. Operation Classroom, in conjunction with the Indiana Annual Conference and OC Ministries in Minnesota, are just two ministries actively responding to the health and education demands facing both the Sierra Leone and Liberia
Conferences.
Keeping food on the teachers' tables was an immediate response, but now the push is to get pupils in class.
"The best way we can help out at this point is to get as many kids in school as possible.  That's why we are raising funds for our scholarship program," explains Bob Coolman, Operation Classroom president. "Because of the economic disruption caused by Ebola, many parents who could afford school fees prior to Ebola can no longer afford to send their children to school. Our scholarships can make the difference between a child being educated or not."
No show students
So far, Kamara's predictions of an academic Armageddon are coming true. Many students are not returning to the classroom.  Education officials are optimistic attendance will climb as sporadic outbreaks of Ebola decline and parents become more confident that their children will be safe. Fear still permeates the psyche of the nation and with the virus still lingering in the country, Bishop Yambasu stresses that his United Methodist educators must remain vigilant when it comes to classroom hygiene.
Students have more to worry about than clean hands.
They have endured the loss of an entire academic year and many are facing critical national exams when they return. These exams determine how a student will progress in his or her academic career. For the three years prior to the epidemic, 15-year-old Fatmata Sandi prepared for her secondary school exams and was scheduled to take them just as schools were shuttered.  Because textbooks are nearly nonexistent in the community, she has not been able to keep up her studies during the hiatus.
"When school opens we are going to sit for the exam and we are not prepared for it," Sandi says. 
Facing  three years of schooling crammed into the next two, there are others who appear to have given up, entirely. Seventeen-year-old Mariama Massakuoi confidently tells Kamara that she now has other interests.
"I am a businesswoman," says Massakuoi as she places a stool along the village's busy dirt thoroughfare.  A top is a suitcase overflowing with sundries and as she organizes her wares she tells the educator that she might return to school someday.
But, "for this moment I am going to stay to do my business."
A toll on children
A year of sequestered activity has taken a toll on the children of Sierra Leone. "I stopped my children from coming to church," explains Jaka Lappia, a council member of Kercher United Methodist Church. "We just kept them home, locked them in the gates.  If you don't have a gate, you lock them in the house." 
Teen pregnancy and early marriage have become a great concern, as well.  As he strolls the village, Kamara points to one of his prized students, a 17-year-old girl who is now married and pregnant. He is convinced she will never go back to school.
"It is pathetic, just pathetic," he says. 
The ambitious post-Ebola recovery strategy outlined by the Sierra Leone Conference does not veer from its long-established core ministries for the most vulnerable individuals. But the Ebola epidemic has opened an expanded front in the fight against poverty and despair; this unseen enemy requires a robust battle plan. 
Reaching the many milestones identified in the two-year plan will require collaboration through the United Methodist connection and Yambasu is anticipating a response from congregations, agencies and ministries in order to achieve a stronger church and a stronger West Africa. 
Meanwhile, the bishop has not abandoned the goals of "radical evangelism" and church growth.  Yambasu says the church is in the throes of "restorative justice" as his people hunger for nourishment of both body and soul.
"We will go to them," he says, "Just carrying food and saying nothing is a whole gospel, a whole sermon."
Snider is special projects producer for United Methodist Communications and has reported from Sierra Leone multiple times since 2007.
---
Like what you're reading? Support the ministry of UM News! Your support ensures the latest denominational news, dynamic stories and informative articles will continue to connect our global community. Make a tax-deductible donation at ResourceUMC.org/GiveUMCom.