Esau Jenkins spent years providing both a ride and an education about voter registration for his fellow African-American residents in the Charleston, South Carolina, area.
Now, through his 1968 Volkswagen bus, the devout United Methodist and civil rights activist, who died in 1972, is being recognized by the Smithsonian.
The back and side panels of the bus are among the donated artifacts featured in one of the "Defining Freedom, Defending Freedom" permanent exhibits at the new National Museum of African American History and Culture, which opens Sept. 24 on the National Mall in Washington.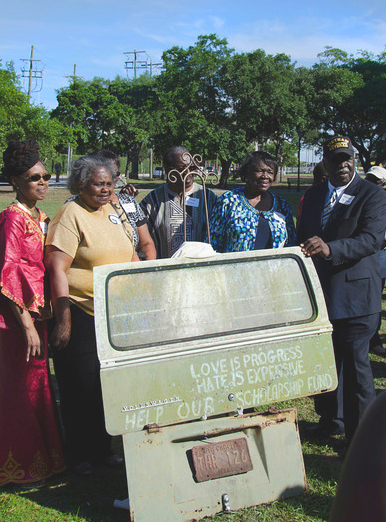 Elaine Jenkins, director of planned giving for the Africa University Development Office in Nashville, Tennessee, her five living siblings — Abraham Bill Jenkins Sr., Marie J. Jones, James Jenkins, Lorretta J. Saunders and Francena J. Buncomb — and other family members and friends will be there to celebrate her father's legacy.
The family, the City of Charleston and other partners are hosting a gala event on Sept. 22 in conjunction with the national museum opening to break ground for that city's own International African American Museum, which also will receive several panels from the Jenkins' bus. That event will serve as a send-off for those traveling to Washington by bus the next day.
The panels acquired for the national African-American museum actually came from the last of what was a fleet of buses and vans used by Esau Jenkins over the years. "He spoke a lot to groups about the need to register and vote," Elaine Jenkins explained. "That was the bus he drove throughout the state of South Carolina." 
And what does the motto painted on the back of the VW bus — "Love is Progress, Hate is Expensive" — signify?
Abraham Jenkins, the eldest sibling, has a straightforward answer: "You can do more with love any time," he pointed out. "It takes too much out of you to hate someone."
The Progressive Club
The story of the VW bus begins in 1948, when Esau Jenkins founded the Progressive Club to promote political education and voter registration for Charleston's African-American residents — particularly those in rural areas like Johns Island, where he lived.
GRand Opening Events
The National Museum of African American History and Culture, located on the National Mall in Washington, has its grand opening on Sept. 24.
The six living children of Esau and Janie Jenkins, along with six other family members, will attend a Sept. 17 pre-opening reception at the museum. Elaine Jenkins will represent the family at a smaller gathering on Sept. 21 that will include President Obama and his cabinet, the U.S. Supreme Court justices and members of Congress.
Abraham Bill Jenkins Sr. and sisters Marie J. Jones, Lorretta J. Saunders and Francena J. Buncomb will represent the family at the museum's Sept. 24 ceremony. Some family members also expect to attend the after-party that evening. President and Mrs. Obama will attend both events.
In addition to the official Smithsonian activities, the family is hosting a reception in Washington on Sept. 23 for friends and family coming in from North and South Carolina, Atlanta and Virginia.
William S. Pretzer — a senior history curator for the new museum who came to Charleston in August 2013 and sponsored the acquisition of the VW bus —will attend the Jenkins family reception with his wife.
Providing transportation to those who worked or went to school in the main section of Charleston offered an opportunity to prepare his passengers for voter registration.
Abraham Jenkins has very personal memories of his father's bus service. "We used to ride the same bus that my daddy was taking people to work in," he explained. "We used to go to high school in Charleston because there was no high school on the island for blacks."
Some of the bus passengers were female and didn't have to be at work as early as the others. "He started teaching them how to read the portion of the state constitution that they needed to know to register," his son said.
Many who lived on Johns Island then "had common sense," he noted, but were not skilled in reading and writing. For Esau and Janie Jenkins, formal education had ended after the fourth grade. But his father was tutored by a pastor who encouraged him to go to night school, and his mother already "had a head for numbers."
Esau Jenkins was inspired to expand his civil rights work after a visit to the Highlander Folk School, a training center for activists in Tennessee. With Septima Clark and Bernice Robinson, he opened the "Citizenship School" in 1957 in a former elementary school on the island.
It became a model for similar schools in the South that promoted education and political skill building as tools to register voters and help change society. Among the visitors who came to Johns Island to see how it worked, Abraham Jenkins recalled, were Fannie Lou Hamer, Martin Luther King Jr. and Stokely Carmichael.
Esau Jenkins also founded the C.O. Federal Credit Union in 1970 to make low-interest loans available to African Americans who often were denied service at major financial institutions.
Sustained by faith
Faith was their guiding light. Esau Jenkins served as a local pastor at Wesley Methodist Church on Johns Island and religion permeated the family's life and actions. "I never saw Papa leave the house before falling beside the bed on his knees to pray," Elaine Jenkins said.
Their parents held a family prayer meeting every Sunday before leaving for worship at church and the children knew they had to take the time to learn the assigned lesson of the week.
"We thought that was what religion did was (to) speak to the needs of the people," Abraham Jenkins said. "You had to speak out when you saw injustice.
"He was real spiritual," his son added. "He used to teach us to respect everyone that you meet and if you can't respect them then you don't need to be in that company."
His wife, Janie Jenkins, also was guided by faith as she managed both the family businesses and their home. She died in 1998. "My father couldn't do what he did if my mother were not as strong as he was," Elaine Jenkins, their youngest child, pointed out.
There were threats related to his advocacy for African-American voters and the fact that whites mingled with blacks at the Progressive Club, along with accusations of Esau Jenkins being a "communist," which regularly surfaced in the local newspaper. "When you're going through that you know about the tensions," Elaine Jenkins said. "You feel fearful at times."
Their father was fearless, she remembered. "Papa had this sense of what was right and wrong. I think he and Mama lived through very hard times."
In trying to better the lives of their own children, she added, her parents bettered the lives of the entire community. It is that contribution, to the community and to the nation, which made it important for the family to preserve the 1968 VW bus for history.
In 2013, the Preservation Society of Charleston unveiled a historical marker at the Johns Island building used by the Progressive Club. The society's Thomas Mayhem Pinckney Alliance planned the celebration that occurred on June 1, 2014, when the bus panels were sent to the National Museum of African American History and Culture.
Bloom is a United Methodist News Service multimedia reporter based in New York. Follow her at https://twitter.com/umcscribe or contact her at 615-742-5470 or [email protected]
---
Like what you're reading? Support the ministry of UM News! Your support ensures the latest denominational news, dynamic stories and informative articles will continue to connect our global community. Make a tax-deductible donation at ResourceUMC.org/GiveUMCom.