---
Key points
Betty Hinshaw, a 97-year-old United Methodist, recently donated 25 acres to the Northwest Arkansas Land Trust.
The land is now the Betty Hinshaw Bird Sanctuary.
The trust plans to restore the pastureland to native grasses, a boon to threatened grassland bird species.
---
Betty Hinshaw had always lived in cities when her husband decided, in 1956, that they should move to rural northwest Arkansas. She made him promise there wouldn't be snakes.
They saw one the first day as they drove the dusty road to their old farmhouse. It had a newly installed bathroom but no air conditioning. The nearest school was two rooms — not counting outhouses.
So much was new, but Betty Hinshaw quickly took to country life and especially the land she and her husband owned: Rocking Chair Ranch. They raised four children there, and she became deeply involved in the community, including the Methodist church.
At 97, Hinshaw still lives on the ranch, in a more comfortable home than the original. But she doesn't own as much of the pastureland she loves to look out on.
That's because she recently donated 25 of her roughly 100 acres to the Northwest Arkansas Land Trust for the new Betty Hinshaw Bird Sanctuary.
"Our feathered friends have been happy here for years," she said in prepared remarks for the June 2 dedication. "And now their special area will be safe in the hands of the Northwest Arkansas Land Trust."
The ceremony drew a crowd of Hinshaw family members and friends. Among the speakers was the Rev. Andrew Thompson, pastor of First United Methodist Church of Springdale, Arkansas, where Betty Hinshaw has been a member for more than six decades.
"Ms. Betty and her family have been dedicated to serving our community for decades," Thompson said in an email interview. "Dedicating her land for a perpetual bird sanctuary is an extension of that service. I think it's wonderful."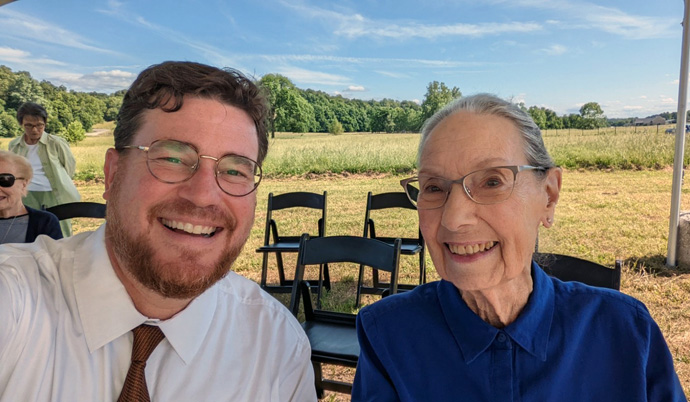 Also present at the service was Joseph Neal, co-author of the book "Arkansas Birds: Their Distribution and Abundance." He later posted on social media a list of birds he spotted in the fields and on the fence posts that day, including scissor-tailed flycatchers, rough-winged swallows, dickcissels and Eastern kingbirds.
The birdwatching will get better as the pastureland is restored to native grasses and becomes prime habitat for grasslands birds, said Marson Nance, the Northwest Arkansas Land Trust's director of land stewardship and research.
"We thank (Betty Hinshaw) so much for having that vision," Nance said by phone.
Hinshaw grew up in St. Louis. She and husband Jerry met there at the place they both worked, Ralston Purina. They would move to Jacksonville, Florida, and Dallas for his career, finally settling in northwest Arkansas' Tontitown community (near Springdale), so he could open a branch office of Arbor Acres poultry and egg company.
Jerry Hinshaw would go on to become a leading cattleman in the state and serve 16 years in the Arkansas legislature. He died in 2003.
Betty was a homemaker who helped her husband with politicking and took on community and church roles, including with United Methodist Women (now United Women in Faith).
Methodism came with marriage.
"I was raised low Episcopal, and it's a lot like Methodist, so I was happy," she said.
Along with appreciating rural northwest Arkansas, Hinshaw became a protector of it. That extended to wildlife — even snakes.
Her daughter Dawn remembers that if one was close to the house, Betty wouldn't kill it or have it killed. Instead, she would grab a shovel or rake, scoop the snake up or let it curl around the handle, and walk it to the pasture for a safe release.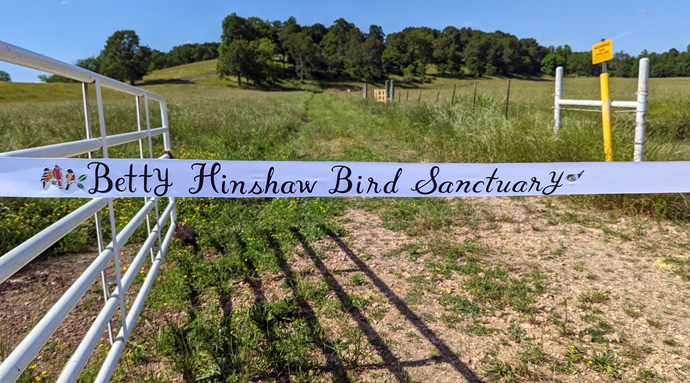 Betty tended injured animals, too, and kept the birdfeeders full.
"I've always said about my mom that she was an environmentalist before environmentalism was cool," Dawn Hinshaw said.
The Hinshaw family has been around long enough to see northwest Arkansas, part of the Ozarks, become the state's fastest-growing region. Even little Tontitown is getting its share of sprawl from Fayetteville, home of the University of Arkansas.
Betty had read in the newspaper about the Northwest Arkansas Land Trust, which works to preserve natural areas and historic structures. With the support of her family, she decided to give land for a bird sanctuary.
"We just said, 'Mom it would be really appropriate for you to have a legacy project,'" Dawn Hinshaw recalled.
There was a loving tussle over naming it the Betty Hinshaw Bird Sanctuary. That became clear in a phone interview with mother and daughter.
Betty: "I wanted it to be the Hinshaw Family Bird Sanctuary, but she would not have it."
Dawn: "It's hers all the way. I just suggested strongly it should be named for her."
Betty: "Strongly? She whacked me over the head."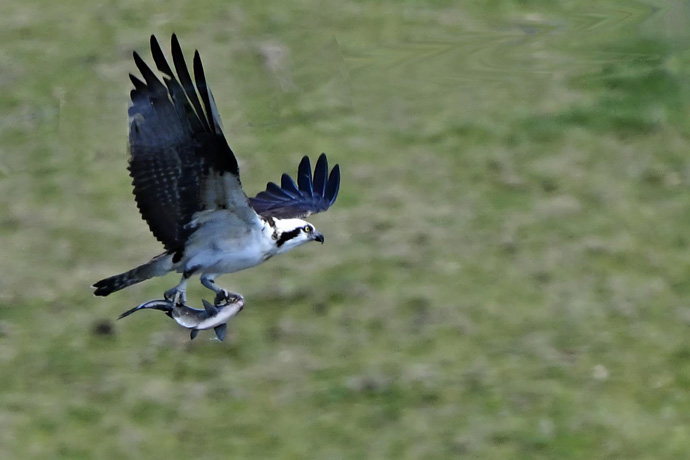 The Northwest Arkansas Land Trust has done research on the bird sanctuary and remaining Hinshaw property, which includes a creek and a lake where bald eagles and osprey dive for fish.
The land was classified as oak barrens in an 1832 federal government survey. That means it was mostly savanna, with an understory of native grasses and wildflowers, and a scattering of white and blackjack oaks.
The trust plans dawn-to-dusk public access to the sanctuary, but the management priority is restoring native grasses, shrub thickets and pollinator habitat.
A 2019 study, reported in Science magazine, estimated that the North American bird population has declined by 3 billion since 1970. Grassland bird species — such as Eastern meadowlark, bobolink and Henslow's sparrow — are particularly threatened, leading to a critical need for habitat preservation and restoration.
"Pre-European settlers, there was about 3 million acres of grasslands in the state of (what is now) Arkansas," Nance said. "Only about 1% of those grasslands are remaining."
The Betty Hinshaw Bird Sanctuary is the first Northwest Arkansas Land Trust property dedicated to bird conservation, and one of the region's first to focus on grassland birds.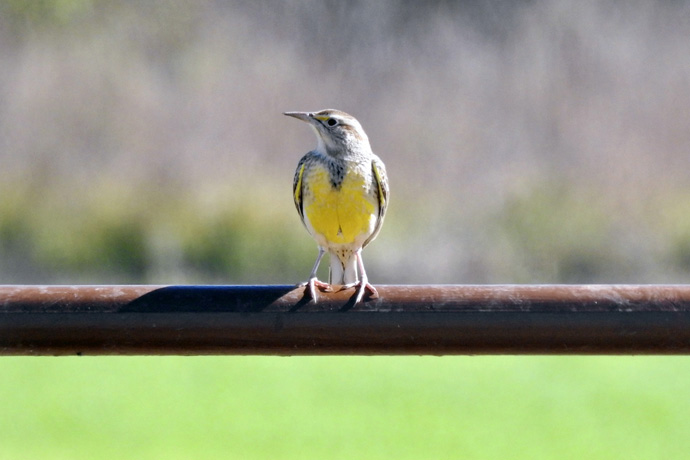 At the sanctuary dedication, Hinshaw quoted Genesis on God's command to Noah about filling the Ark ("seven of every kind of bird, male and female"). She also shared her concern about global warming.
Hinshaw's 25-acre gift is an act of environmental protection, but also a way of paying forward, in perpetuity, her good fortune in coming to rural northwest Arkansas.
"I love this land," she said. "I loved it from the beginning, really."
Hodges is a Dallas-based writer for United Methodist News. Contact him at 615-742-5470 or
[email protected]
To read more United Methodist news,
subscribe to the free Daily or Weekly Digests.
---
Like what you're reading? Support the ministry of UM News! Your support ensures the latest denominational news, dynamic stories and informative articles will continue to connect our global community. Make a tax-deductible donation at ResourceUMC.org/GiveUMCom.