To fight malaria and other diseases of poverty, The United Methodist Church will receive a $5 million grant from the United Nations Foundation with support from the Bill and Melinda Gates Foundation, Bishop Thomas Bickerton has announced.
Bickerton made the announcement on World Malaria Day, April 25, during proceedings of General Conference, the church's top policy-making body.
"With the affirmation of this General Conference, we hope to use this $5 million to support a fund-raising and educational campaign to help prevent deaths related to malaria, HIV/AIDS and tuberculosis," said Bickerton, president of the United Methodist Commission on Communication. "The goal is to raise $100 million over the next several years for malaria programs in Africa and the Global AIDS Fund."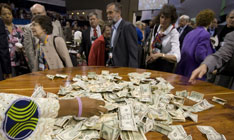 Bickerton also announced that the Nothing But Nets anti-malaria campaign has raised more than $20 million since it began in 2006. The United Methodist Church is one of the founding partners of the campaign, which fights malaria by purchasing and distributing insecticide-treated sleeping nets in Africa. A donation of $10 covers the cost of delivering one net and teaching a family how to protect themselves from malaria-carrying mosquitoes.
Nothing But Nets is part of the church's Global Health Initiative, which focuses on fighting diseases of poverty and promoting congregational health and wholeness.
"Through the Global Health Initiative, we can level the playing field and enable all of God's children to be healthy, whole and happy," said Bickerton, who serves as a spokesperson for the Nothing But Nets campaign and leads the church's Pittsburgh Area.
"Will we be so consumed by our business that we forget the children who die today from that killer disease? It seems altogether appropriate that we give every child in Africa an opportunity," he said.
"Ten dollars it represents your lunch today, a lunch you could eat, or it represents a life that you can save. Buy a net. Save a life," he said raising a $10 bill and placing it on a table in the middle of the arena in the Fort Worth Convention Center.
Delegates to General Conference and others followed his lead, walking forward quickly to place a total of $13,530 on the table.
Tackling major problems
Bickerton said he participated in an event April 23 at the United Nations with key partners to discuss the next stage of collaborative efforts to fight malaria. The partners included Ted Turner and other United Nations Foundation leaders, leaders of the Bill and Melinda Gates Foundation, the commissioners of the National Basketball Association and Major League Soccer, and sports columnist Rick Reilly, co-creator of the Nothing But Nets campaign.
Bickerton said they discussed "one clear reality: none of us can solve the root causes of poverty on our own, but together we can solve some of the world's major problems."
The United Methodist Church has entered into a partnership with the U.N. Foundation and Lutheran World Relief called the United Nations Foundation Malaria Partnership. It includes efforts to strengthen health systems, build grassroots constituencies through Nothing But Nets and work with Roll Back Malaria on global advocacy efforts.
At a press conference following remarks to General Conference delegates, Bickerton was joined by Bishop Felton May, interim top executive of the United Methodist Board of Global Ministries, and the Rev. Larry Hollon, chief executive of United Methodist Communications. Their agencies worked together to apply for the grant. 
"It's a dream come true," said May, adding that the Board of Global Ministries has been involved with global health for many years. "The dollars are there. I know the need is there. I am so excited to be part of this enterprise."
'Scaling up' the effort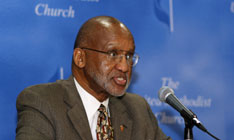 Bickerton said the average Nothing But Nets contribution has been $60. "We have raised $20 million $60 at a time." He said the campaign slogan has been "Buy a net. Save a life." Now the slogan could be "scale it up and save a life," he said. "All of these partners are ready to scale it up."
For The United Methodist Church, Hollon said "scaling it up" will mean a four-month planning phase for the Global Health Initiative involving the United Methodist Board of Global Ministries, Board of Higher Education and Ministry, Board of Church and Society and United Methodist Communications. This collaboration of resources "allows us to be more effective," he said.
Much of the effectiveness of the Nothing But Nets campaign has been that it quickly became a movement with spontaneous expressions of faith throughout the United Methodist connection, Bickerton said.
In response to a question at the press conference, Bickerton said the "signature moment" when he realized it was a movement came in January 2007, when then 6-year-old Katherine Commale showed him a diorama she made and demonstrated how a mosquito could not get through the bed net. "At that time, she had raised $10,000," he said. Now she has raised $40,000 a fact that drew cheers from General Conference delegates when Katherine stood before them April 24 during a presentation by United Methodist leaders.
Hollon said fighting malaria and other diseases of poverty requires a "seismic shift &ellipsis; that we move toward each other in partnership. What I sense is that there is a great yearning. I believe we are at the dawn of a new day."
*Deborah White is associate editor of Interpreter magazine.
News media contact: Deborah White, e-mail: [email protected].
Phone calls can be made to the General Conference Newsroom in Fort Worth, Texas, at (817) 698-4405 until May 3. Afterward, call United Methodist News Service in Nashville, Tenn., at (615) 742-5470.
Videos
Bishop Thomas Bickerton: "What could the General Conference... do on World Malaria Day?"
Related Articles
Resources
---
Like what you're reading? Support the ministry of UM News! Your support ensures the latest denominational news, dynamic stories and informative articles will continue to connect our global community. Make a tax-deductible donation at ResourceUMC.org/GiveUMCom.