When the earth is torn asunder, when famine, disease or war ravages some faraway forgotten place, look for Nyamah Dunbar, Shannon Trilli or Melissa Crutchfield and know things will get better.
If it sounds as if they should be wearing capes and leaping tall buildings, that's because if it were possible, these three remarkable young women would not sleep until everyone in the world was safe. For now, they don their UMCOR shirts and set their sights on all the places touched by The United Methodist Church.
Crutchfield, 38, is the agency's staff executive for international disaster response; Dunbar, 31, manages the Imagine No Malaria program; and Trilli, 33, is the director of Global Health. That means from one day to the next any one of them (or all three) might wake up in Africa and two days later go to sleep in Haiti.
Dunbar, Trilli and Crutchfield don't think they can work miracles or save the world, but they have faith in God, each other and United Methodists in every corner of the globe.
Their big jobs have made them close friends.
"I know we've all been through some incredibly difficult challenges in the work we do for UMCOR," Crutchfield says. "For a lot of people, if you ask them about their job &ellipsis; they go to work from 9 to 5. They come home. I think for all of us it's much more than just a job. It's really our life. It's who we are; it's not just what we do."
Busting through ceilings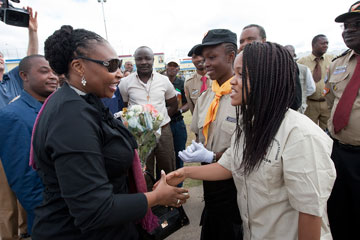 Nyamah Dunbar (right) greets South African singer and anti-malaria ambassador Yvonne Chaka Chaka in Lubumbashi, Democratic Republic of the Congo in April 2010.
View Video
People notice they are three young women commanding crowds, pushing through airports and staring down whomever is trying to stand in their way.
Many times, people are surprised to see a young woman in charge of bringing order out of chaos during disasters such as the Haiti earthquake or organizing the distribution of mosquito bed nets in Sierra Leone.
"I know especially, even from our African counterparts, a lot of them are surprised at how young we are," Dunbar says. "And they even comment on that. 'You are so young and you're doing so much, and you're already responsible for all these programs.' So indirectly the church is also presenting a face and really breaking some ceilings not only at the head office level, but even toward the partners in the field."
They all credit their two years with the Peace Corps after college as forming who they are today. Dunbar volunteered in Benin, West Africa; Trilli was in Bolivia; and Crutchfield served in Cameroon.
Trilli says working with UMCOR and Imagine No Malaria was "the opportunity of a lifetime."
Imagine No Malaria, The United Methodist Church's campaign to eliminate malaria by 2015, has a goal of raising $75 million.
Of the three, Trilli is the only one who comes to UMCOR from outside the denomination. Based on her success in Imagine No Malaria, Trilli was promoted to director of Global Health, where she works with such organizations as the Bill & Melinda Gates Foundation, the United Nations Foundation and the International Red Cross in addition to The United Methodist Church's global health projects.
"I think it's a testament &ellipsis; at a time when the church is looking to engage young people, I found that UMCOR and Imagine No Malaria gave myself and my best friends, my colleagues, an incredible opportunity," she says. "I think many young people in our church are looking at us saying, 'We want to do that, too.'"
United Methodist roots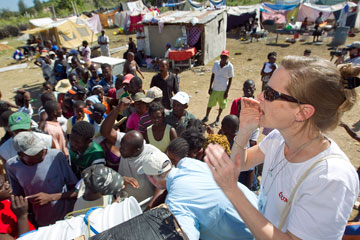 Melissa Crutchfield helps distribute water treatment supplies to people living in a makeshift camp in Gresier, Haiti, after the January 2010 earthquake.
View Video
Dunbar was born in Liberia while her mother was a missionary for the United Methodist Board of Global Ministries. Wilma Dunbar took her 13 children back to the U.S. after her husband died when Nyamah was 11.
"It's only now as I look back and see where I am with my current choice of career that I realize that time of service and the exposure that it gave us really shaped ultimately who I am today professionally and personally," she says.
Dunbar's passion is to tell positive stories about Africa.
"I think unfortunately the mass media only tells the sad versions of what's going on there. There are a lot of great things that are happening."
Crutchfield also grew up in a United Methodist home. Her father, Bishop Charles Crutchfield, just retired from the Arkansas Annual (regional) Conference. Her grandfather was a bishop in the Texas Annual Conference, and her great uncle was a bishop in the New Mexico Annual Conference.
She says she grew up watching her dad grow through his faith and leadership in the church. She also remembers having to go to church every Sunday, no matter what.
"Even on vacation we went to church. I remember thinking I had to be the only kid in town that went to church literally every Sunday. You know, when it was snowing outside and nobody could make it to church and everything was closed, I would still be at church," she says.
Her family also taught her to value and love traveling.
"Sometimes I laugh at myself and think, 'Wow, careful what you wish for 'cause now it's sometimes too much of a good thing."
Divide and conquer
The earthquake in Haiti was one of Crutchfield's biggest challenges because in addition to the enormity of the disaster, it was also personal when it took the lives of two UMCOR colleagues - the Rev. Sam Dixon, head of UMCOR, and the Rev. Clint Rabb, head of Mission Volunteers.
Trilli and Dunbar were in the Democratic Republic of Congo bringing together people from all around the world for a celebration of World Malaria Day.
"My other best friend, Melissa Crutchfield, was having to figure out how to get into Haiti to find our colleagues. We had to continue our work," Trilli says.
That kind of workload takes a toll.
"There is, usually, always a disaster on the radar," Crutchfield says.
"We understand the moods and the tiredness," Trilli says. "We understand how it's hard to keep up with our life in the United States in a way that is essential for us to keep going and an understanding that goes beyond what our families and friends and even other work colleagues know."
The fact that there is so much to be done has helped them master the art of dividing and conquering, Dunbar says.
"I would have almost hated to have read about Shannon Trilli after she has already worked and gone, or read about Melissa after she's worked and gone. And one of the greatest things about being in the here and now and doing what we do is that we're simultaneously doing it together."
They also know they can lean on one another when the task becomes overwhelming.
"I think in terms of the triumvirate, the three of us, I think there's an absolute confidence that if one of us can't do it, we're gonna pass the baton to the next, and there's no question that it won't - not just get done, but get done at our shared standard of excellence. So it's rare," Trilli explains.
"I just think Shannon and Nyamah are like the most amazing women I've ever met," Crutchfield says.
* Gilbert is a multimedia reporter for the young adult content team at United Methodist Communications, Nashville, Tenn.
News media contact: Kathy L. Gilbert, Nashville, Tenn., (615) 742-5470 or [email protected].
---
Like what you're reading? Support the ministry of UM News! Your support ensures the latest denominational news, dynamic stories and informative articles will continue to connect our global community. Make a tax-deductible donation at ResourceUMC.org/GiveUMCom.