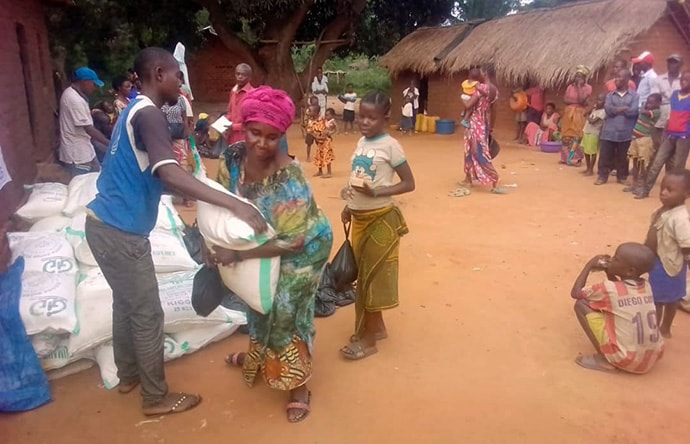 Continued clashes between government forces and Mai-Mai armed groups have forced residents of Misisi villages to flee violence and seek refuge in Lweba.
The United Methodist Church in Congo used a grant for 8.3 million Congolese franc ($5,000 U.S.) from United Methodist Discipleship Ministries to provide food relief to about 100 of those displaced people in Lweba, a locality that is under the control of the Congolese army. The Mai-Mai groups fight the army and others for their local territory.
"They fled their households, their fields, they left everything to save their lives by searching for peace. They have been forced to live far from their homes, exposing themselves to enormous difficulties," said the Rev. Amos Walulu, pastor of the local Lweba church in the Fizi District of the Kivu Conference.
More than 100,000 people fled their homes in April in the North Kivu province because of violence, according to the United Nations Refugee Agency.
In May, the church delivered sacks of flour and rice, vegetable oils, soap and other items to the displaced, who come from several different tribes and villages on the high and middle plateaus.
"These displaced people are facing enormous difficulties, especially for the lack of food, non-food (items), shelter, schooling for children and others," Walulu said.
Amnazo Wabecha, a single mother of five in the camp for internally displaced people in Lweba, expressed her joy at receiving assistance.
"I thank God for receiving this help from The United Methodist Church. May God bless all the donors who allowed this gift to come to us," she said.
Wabecha hopes that government officials can pacify the region and allow her to return home and resume her daily life.
"I pray to God every day that the authorities of our country and our army can quickly get rid of the rebels so that we can come home. It is not easy to live in an IDP camp far from home, fields and daily activities. We pray that God can get involved so that there is no war here," she said.
Charles Ekyochi agreed. The 28-year-old and his wife fled their home.
"I am truly delighted with the act of compassion posed by The United Methodist Church. We had trouble eating, but with the help we just had, we eat our fill. God has just sent us angels to bring us food. This is a commendable gesture by United Methodists," Ekyochi said.
East Congo Area Bishop Gabriel Yemba Unda said that Kivu is often the scene of clashes, which has caused the displacement of thousands of people.
"The situation of the people in the East Congo remains our concern in prayer and we seek partners to help the children of God who are in eastern Congo, one of the annual conferences of our episcopal region," he said.
Helping the displaced is a form of evangelism, said Walulu. He said his church and many other United Methodist churches in the area receive many worshippers who come to pray.
"Since we have distributed food and non-food items with the help of Discipleship Ministries, we are experiencing a great infatuation with our local church. Every Sunday, we have the faithful who have decided to start praying with us from the help we have given them. Personally, I appreciate this initiative," Amos said.
"Jesus Christ our Savior has asked us to go out into the world to evangelize all peoples and make them his disciples. What we do through the help we give to the poorest allows us to have many faithful," he said.
Shabani is an East Congo communicator.
News media contact: Vicki Brown at 615-742-5470 or [email protected]. To read more United Methodist news, subscribe to the free Daily or Weekly Digests.