Eloise Reed was 13, and she was mad. Raised to revere the Bible as God's literal and infallible word, she never had heard it challenged before.
"I was just squirmin'," says Reed, now 93 and a lifelong United Methodist. "I was ready to get up and holler."
Reed is among the last living witnesses to the 1925 "Scopes Monkey Trial," in which schoolteacher John Scopes was convicted of breaking state law by teaching evolution. It was considered the trial of the century then, pitting a three-time presidential candidate and a literal belief in the Bible against the then-burgeoning American Civil Liberties Union and Darwin's theory of evolution. The trial drew thousands to pastoral Dayton, Tenn., and shaped how science was taught in classrooms for decades.
Today the trial still resonates as school boards nationwide grapple with intelligent design, the notion that the universe is so complex it must be shepherded by an unseen force. In fact, President Bush sounded a lot like William Jennings Bryan, the presidential candidate and fiery prosecutor of Scopes, when he suggested intelligent design should be taught in public schools with evolution, to let Americans make up their own minds.
As a friend to the sheriff's daughter, Reed was in the front row for some of the trial's most dramatic debate. The trial humiliated Christians because although Scopes was convicted, they were famously portrayed as fundamentalist fanatics by the press and in the 1960 film "Inherit the Wind."
Reed was angered by debate on whether the Bible is stark fact or mere allegory. It would not be the only trial to her faith. Through the years, she would lose her husband and other family members well before old age. She now is frail, suffering from cancer and other ailments, but her faith is strong.
"It was just the Lord's faith that kept me going," says Reed, a member of Dayton's First United Methodist Church, with a Southern drawl. "I always felt like through everything I could almost feel him walking by my side."
A test of law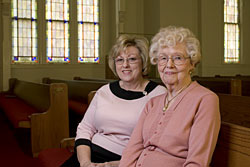 Reed was born in Dayton, a slow-paced Southern town in the foothills of the Cumberland Plateau, and has lived there most of her life, working first as a schoolteacher and then as head of her husband's clothing company after he died suddenly in 1954 of a heart attack. When she sold the company and retired, it was Dayton's oldest business and had been in the family for four generations.
She raised a daughter with the same devout beliefs, and after retirement, she traveled the world with friends. She has been interviewed by reporters and authors from across the globe about the Scopes trial.
The trial was a test of a state law forbidding public school educators from teaching "any theory that denies the story of the divine creation." The American Civil Liberties Union defended Scopes; eventually his conviction was overturned because of a technicality, and the law was repealed.
Reed explains the trial really was a publicity stunt designed to bring economic development to Dayton after a mine closed and laid off thousands. She tells of how her brother attended the trial every day and discussed it every evening with the family over dinner. She recalls being shy for the news photographers.
And she remembers being in the front row for the trial's climax, a showdown between defense lawyer Clarence Darrow and Bryan, who agreed to testify as a biblical witness for Christianity. Darrow's questioning sought to humiliate Bryan and put his beliefs on trial. Reed was amazed.
"We lived by the Scripture. My mother was always quoting the Scripture to us," she says. "The questioning was really … disgusting. He was attacking Bryan."
Even at her young age, the drama only reaffirmed her faith, she says.
"It didn't make any misbeliever out of me," she says. "It is hard to understand those miracles, but that doesn't mean you're not going to believe the word of the Bible."
Setting the story straight
Today, Reed is uninterested in intelligent design. In fact, she is uninterested in the Scopes trial, she says. Seemingly still bitter and cautious about how the press covering the trial treated Christians all those years ago, she makes a point to explain she doesn't discuss the trial with her friends or neighbors anymore, only with the reporters and authors who visit her. She knows what she believes, she says.
"As I've told you before, I believe the story in the Bible," she says. "I don't even want to hear them talk about Darwin's theory of evolution."
Reed agrees to the interviews, despite her ailing health, because she wants the story of the Scopes trial told accurately, says Donna Taylor, 64, her daughter.
"She knows that most of the people that she gives interviews to are wanting the story as it actually was," Taylor says. "I'm glad that she can sort of set it straight to where people don't think we were like the hillbillies they made us out to be in the movies."
Reed has been active in her church most of her life, and now that her health prevents her from attending services, she listens to the sermons every Sunday on the radio. She feels all the tests to her faith have made her more devout.
"I would like to say my faith has deepened through the years, as I have acquired more knowledge in several areas," she says. "Knowing what faith can do to your life makes better people out of us, and seeing those who do not worship at all and how some of them turn out. … I think as you get older, maybe you have deeper faith, too."
*Green is a freelance writer based in Nashville, Tenn.
News media contact: Cindy Caldwell or Tim Tanton, Nashville, Tenn., (615) 742-5470 or [email protected].
Audio
Timeline: Remembering the Scopes Monkey Trial
Related Articles
From Adam or apes? Intelligent design presents a new theory
Science vs. religion is not an either/or issue
Famous Trials in American History
Resourcess
---
Like what you're reading? Support the ministry of UM News! Your support ensures the latest denominational news, dynamic stories and informative articles will continue to connect our global community. Make a tax-deductible donation at ResourceUMC.org/GiveUMCom.