---
Key points:
After record flooding in Eastern Kentucky, United Methodist volunteers are serving as God's "hands and feet."
Lisa Cox, worship leader at Hindman United Methodist Church, has been busy using her four-wheel drive Jeep to deliver as much food and other supplies to as many people as possible.
Bishop Leonard Fairley, episcopal leader of the Kentucky Conference, visited portions of flood-damaged Eastern Kentucky on Aug. 5.
---
Lisa Cox made her way up winding, moss-covered steps in pouring rain to deliver a battery-operated fan to 80-year-old Marjorie Sexton on Aug. 6.
Sexton, waiting on her front porch, was all smiles and so grateful.
"With no fan and no electricity, I just about smothered up here, but the electricity finally came back on," she said. Sexton has lived in her modest home high up a hillside in rural Knott County, Kentucky, for 52 years. She said she has never experienced anything like the record flood that hit the area in late July.
Looking out as rain still fell in sheets outside her door, Sexton said, "It has been a disaster. It's the worst I have ever seen or read about in history."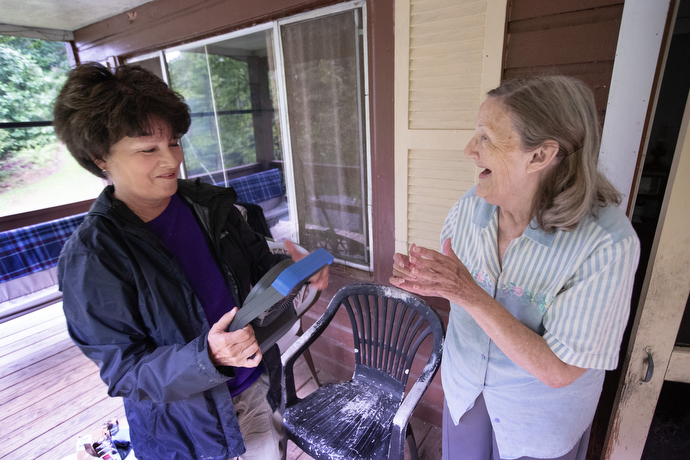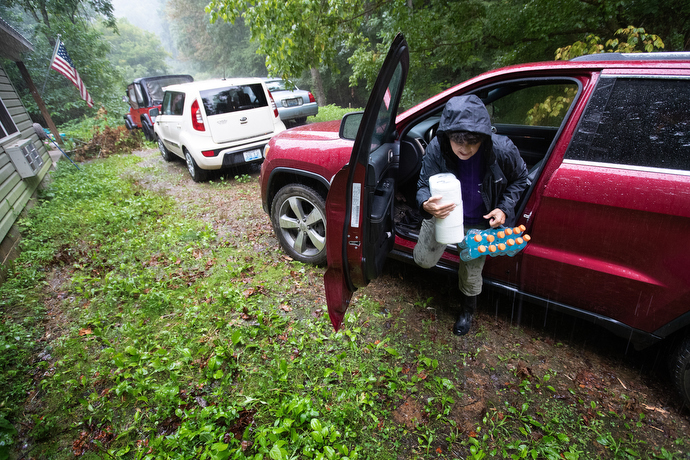 Cox, worship leader at Hindman United Methodist Church, in her knee-high rubber boots and black rain jacket, has been busy using her four-wheel drive Jeep to make her way through flooded and muddy roads, delivering as much food and other supplies to as many people as possible.
Sexton was worried about her neighbor who has cancer.
Cox visited and brought some supplies to his wife, Angie Sloan.
Sloan said they were stuck in the house because the road was flooded out and the cars will not start. Her husband gets delivery of oxygen, and she and her daughter had to walk to the end of the road to get four tanks and bring them back in her grandchildren's toy wagon. Four tanks last him three days, she said.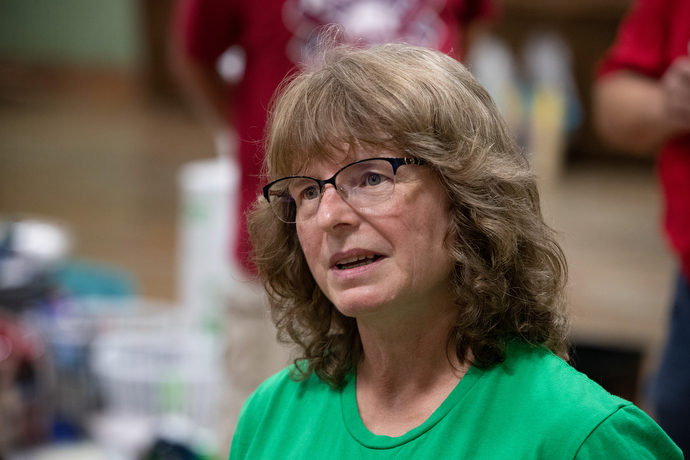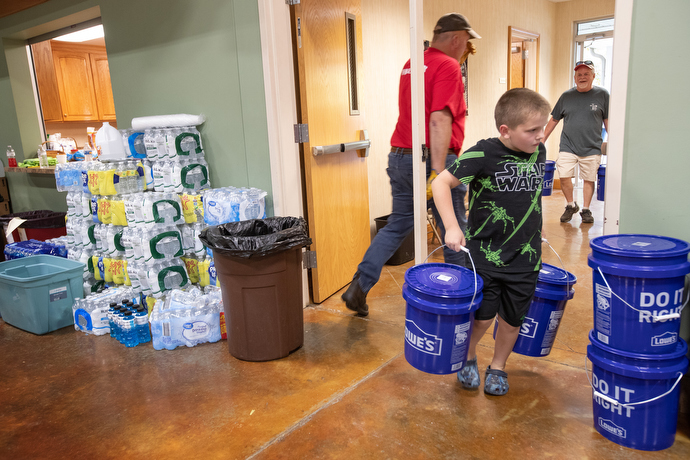 Hindman United Methodist Church got eight inches of standing water in part of the church, but that has not slowed down all the volunteers or donations streaming into the church.
Lorie Street, the pastor's wife, is a teacher at Hindman Elementary School. The teachers were allowed back in the school to assess the damage.
"Every book in our library was destroyed, pre-school through 12th grade. I am an English teacher, so that breaks my heart," she said. "It is amazing the power of water. There were weird things like I had a bucket in my classroom and there wasn't any water in it — the one thing that was meant to hold water."
Not all the losses of life happened during the flood. Cox, who is also guidance counselor at Knott County Central High School, just learned of the death of a 19-year-old who collapsed and died while helping in the cleanup.
"I don't know if he had an underlying undetected heart condition or what," she said.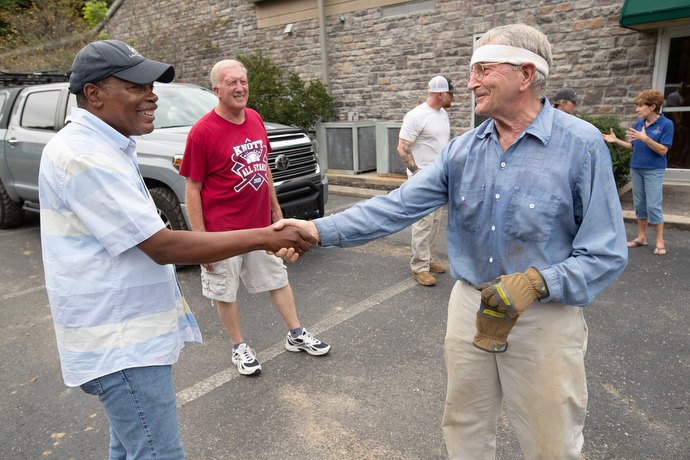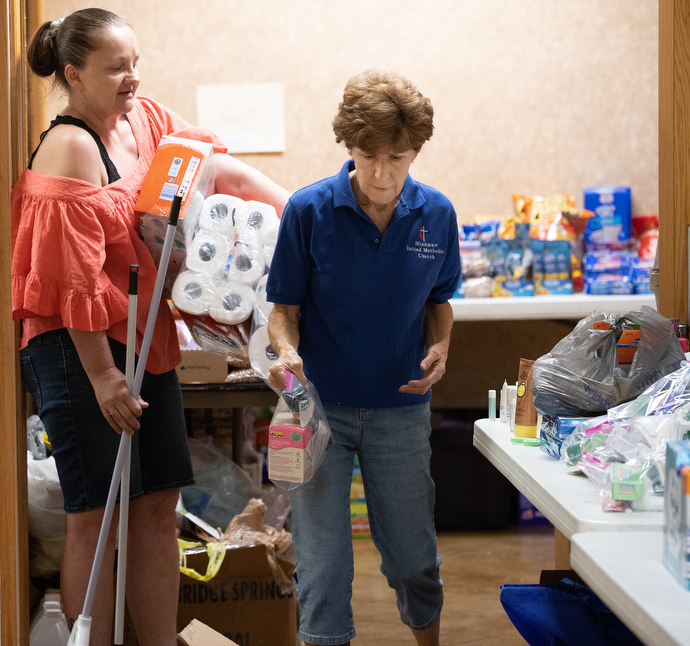 On Aug. 5, the Rev. Roy Harlow, pastor of Graceway United Methodist Church, was out driving in his community in Wayland, Kentucky. Jennifer Taylor was about to get into her SUV when he waved her down to ask how she was doing.
She said she was fine but her harrowing story came out in a flood of words.
Volunteers share hugs and 'God stories' after flooding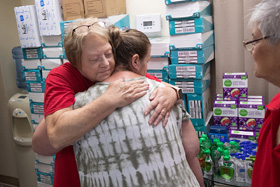 Debbie Holcomb and Rose Calhoun were cheerfully sorting through tons of food donations that were coming in by truckloads and from individuals to the United Methodist Mountain Mission for the survivors of the worst flood in the history of Eastern Kentucky
The two United Methodist women were offering just as many hugs as bags of food.
"We are seeing pitiful, pitiful people. People who sat for hours before they were rescued from dark, wet places. They were alone and they could hear babies crying. Sometimes they just need to be held," said Holcomb …
She said the water in the usually placid stream flowing close to her house rose suddenly at 3 a.m. and her next-door neighbor yelled at her to "get out now."
At that moment, a couple of young men using two-by-four plankes for paddles came up to her front porch in a canoe and helped her jump in.
"They told me not to rock the canoe, but the water was moving so fast, it was hard. We hit a tree, but we made it," she said.
"I lost my aunt who lived in Hindman. My mama was on the phone with her when she heard the trailer popping and cracking."
The death toll is at 37, with the majority of the deaths coming from Knott County. Four of those who died were children ages 2-8 from one family.
"When I heard about those four babies, it broke me," said Taylor.
The water didn't make it up to Taylor's home which is on stilts with a concrete block basement. The homes were built in 1913 by the Elk Horn Coal Company.
Most of her neighbors were not so lucky.
Craig Crase said he got 23 inches of water inside his living area.
"I lost two vehicles and everything I own," he said. "I have structure insurance and vehicle insurance but not flood insurance. I am blessed. Some people lost family members."
Harlow and his church team have been cooking meals and delivering them to flood survivors.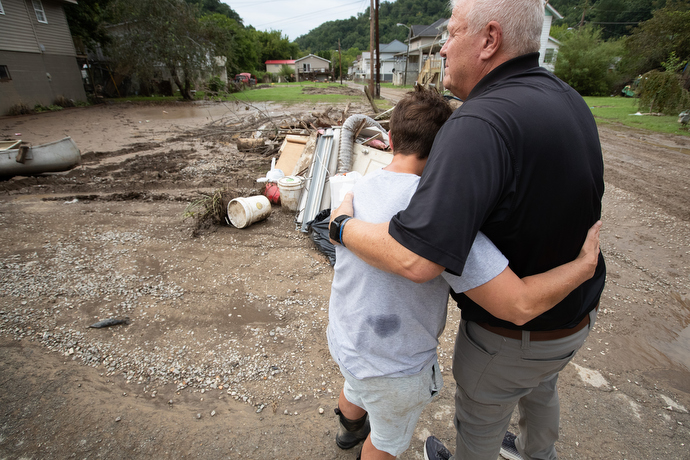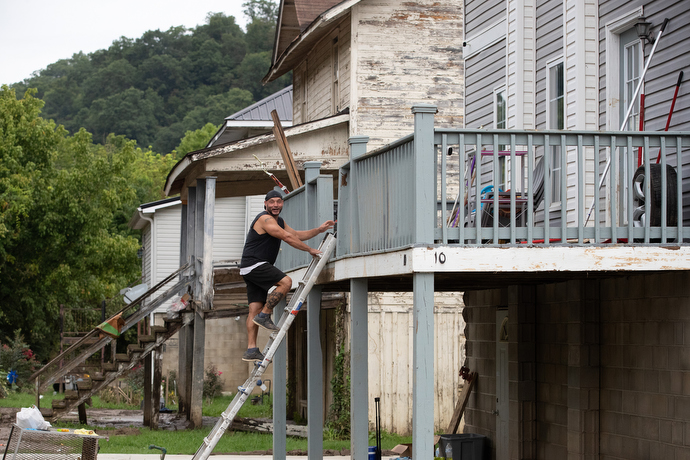 Members of Bowman and its sister church, Lothair United Methodist Church in Hazard, Kentucky, have been helping out and pitching in as they are able.
Letha Patterson, music leader and a retired school teacher at Bowman Memorial, said the church doesn't have enough people to go out to work because many of the members are elderly and sick. She has been a member of the church for 66 years.
"But we can always help out financially," she said. "We used to be the church that could feed people, but we need to find other ways to help.
"The most amazing thing I have seen is the 20- and 30-year-olds taking leadership. This has turned them into doers. Sometimes things like this happen to turn people into human beings."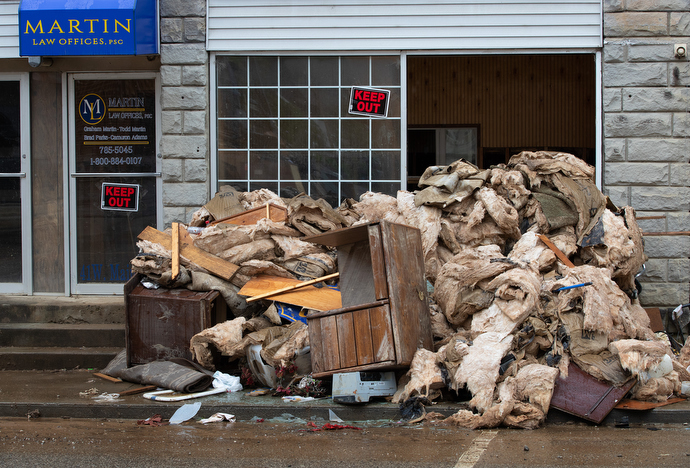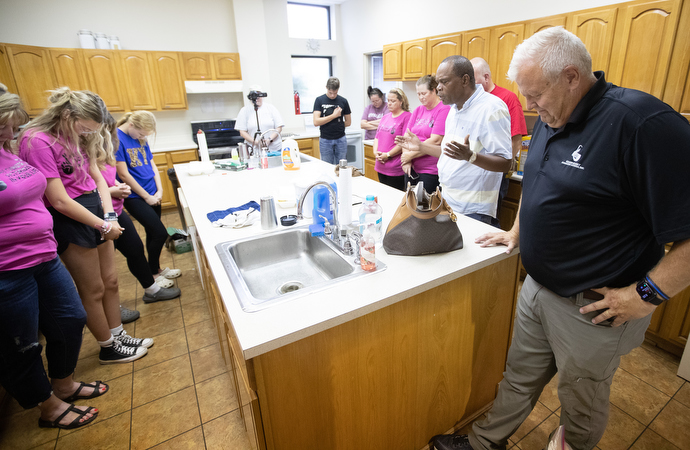 On Aug. 5, Bishop Leonard Fairley, episcopal leader of the Kentucky Conference, visited portions of Eastern Kentucky that were ravaged by flash floods in late July.
In addition to Hindman United Methodist Church, the visit included Methodist Mountain Mission in Jackson, Bowman Memorial United Methodist Church in Hazard, Graceway United Methodist Church in Prestonsburg and Campton United Methodist Church, all in Kentucky.
At each site, he thanked people for their help.
"We always say, 'I am going to pray for you,' and that's true," he said, "but God answers those prayers with our hands and our feet and our hearts. Thank you, Lord, for the hands and the feet of the people in this place."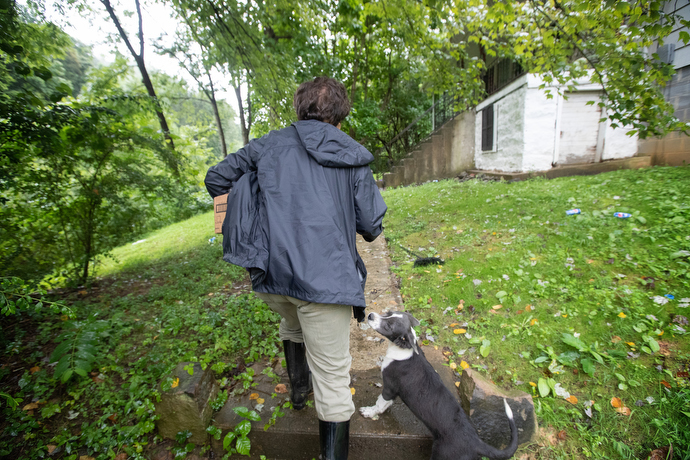 Gilbert is a freelance writer in Nashville, Tennessee.
News media contact: Julie Dwyer, news editor, [email protected] or 615-742-5469. To read more United Methodist news, subscribe to the free Daily or Weekly Digests.
---
Like what you're reading? Support the ministry of UM News! Your support ensures the latest denominational news, dynamic stories and informative articles will continue to connect our global community. Make a tax-deductible donation at ResourceUMC.org/GiveUMCom.