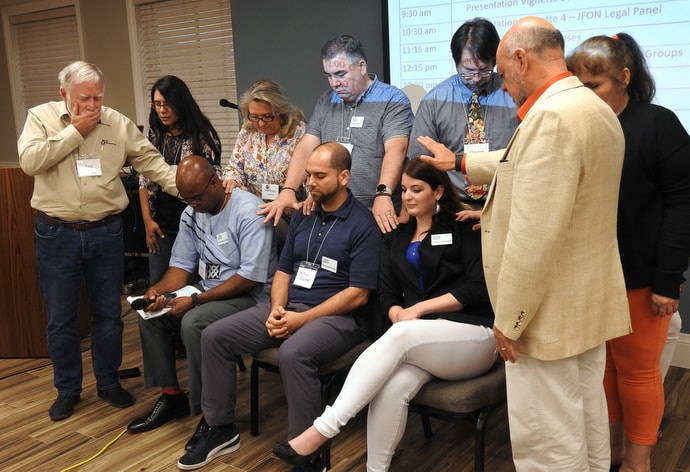 Many of those attending the Rio Texas Conference's Border Convocation told stories of what their last months had been like.
They were not summer vacation stories.
The Rev. Eric Vogt said the church he leads, Travis Park (United Methodist) Church in downtown San Antonio, gave overnight shelter to more than 22,000 migrants from March through mid-September, most of them asylum seekers from Central America and other places, released by authorities to await a court hearing.
Others described new or intensified United Methodist humanitarian work at the border, as well as legal representation and advocacy against Trump administration immigration policies.
The consensus was that United Methodist efforts — however much they've grown — should be stepped up and better coordinated.
"The end state is ultimately having policy change, but the needs are still there between now and then, so we're trying to figure out how best to meet those," said the Rev. Aaron Gonzalez of Methodist Health Care Ministries of South Texas.
Vogt put it another way.
"We're building a kind of Overground Railroad," he said. "So how do we connect the stops?"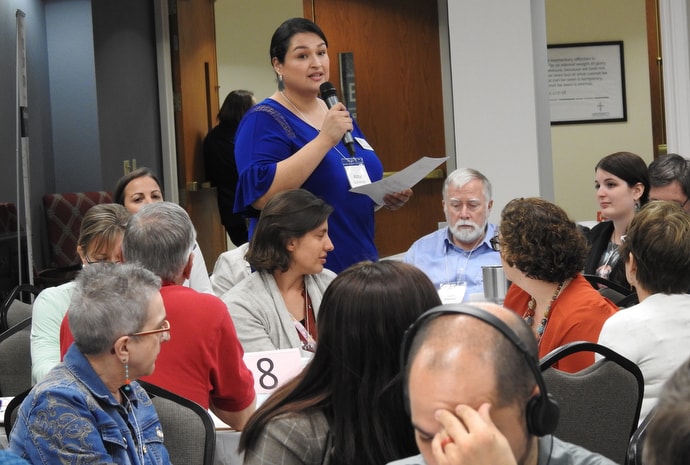 The Rio Texas Conference put on the first Border Convocation a year ago, hoping to identify, connect and support those responding to immigration pressures along the 1,254-mile border between Texas and Mexico. That event drew two dozen people.
The conference's second convocation, held Sept. 20-21 in the Wesley Room of San Antonio's University United Methodist Church, attracted about five times as many. They included not only United Methodist pastors and laity from Texas border towns, but also Methodist Church of Mexico counterparts from across the Rio Grande River.
"This is very much a bi-national conversation," said Abel Vega, director of mission, service and justice ministries for the Rio Texas Conference, and main organizer of the convocation.
Rio Texas Conference Bishop Robert Schnase and retired Bishop Joel Martinez spoke, as did representatives from the United Methodist Committee on Relief, the Board of Church and Society and the Texas Methodist Foundation.
A contingent was present from National Justice for Our Neighbors, a United Methodist ministry that provides legal help for immigrants and has lately added sites and staff across south Texas.
Border ministry representatives included the Rev. Mike Smith of the United Methodist-affiliated Holding Institute Community Center in Laredo, Texas. That social service agency has long been a stopover for just-released asylum seekers.
Smith said the Holding Institute provided food, clothing, showers and other services to 12,000 migrants passing through Laredo between August 2018 and this July.
Holding Institute also has stepped in when undocumented people long living in the U.S. get picked up.
"We have four high school students and two middle school students who have been left in our care because their parents have been deported and they have no place to go," Smith said.
Marti Faulkner, a Methodist Health Care Ministries "Wesley Nurse" in Del Rio, Texas, told how United Methodists and others formed a coalition earlier this year to support asylum seekers being released there for the first time, due to filled detention centers.
The Rev. Becky Baxter Ballou shared a similar story about Eagle Pass, Texas, also on the border.
"One day, 350 immigrant people showed up at our bus station. That was a new reality for Eagle Pass," said Ballou, pastor of First United Methodist Church of Eagle Pass and executive director of the local Mission: Border Hope social services nonprofit.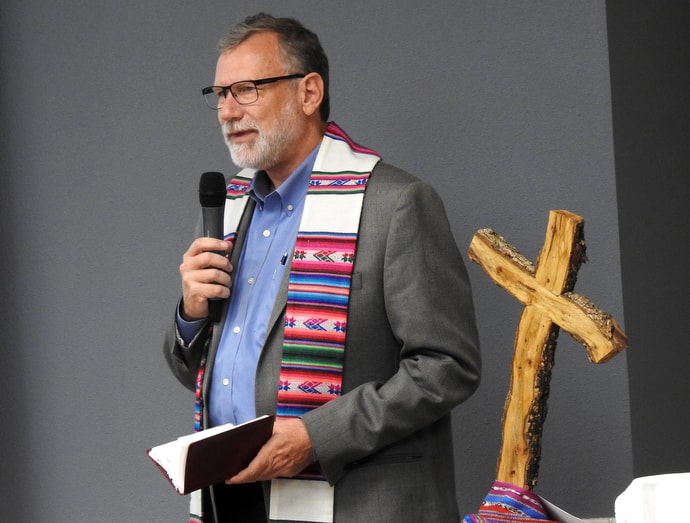 Ballou described how she and Mission: Border Hope colleagues scrambled to provide relief, at one point helping deliver a baby. She also praised the U.S. Border Patrol agents she's worked with in Eagle Pass, citing extra effort she's seen them make to reunite families and prevent migrants from drowning in the Rio Grande.
"Border Patrol there has been a great partner," she said.
Much of the discussion was about fast-changing immigration policies. That includes the Trump administration's Migrant Protection Protocols or "Remain in Mexico" initiative, which has lately massed thousands of asylum seekers in Mexican border towns that the U.S. State Department recommends U.S. citizens avoid because of gang violence.
Good Neighbor Settlement House, a United Methodist Women-supported nonprofit in Brownsville, Texas, has worked with local United Methodist churches and other faith groups to help feed and provide water to people living in tents or on the streets in nearby Matamoras, Mexico.
Subscribe to our
e-newsletter
Like what you're reading and want to see more? Sign up for our free daily and weekly digests of important news and events in the life of The United Methodist Church.
Meanwhile, Justice for Our Neighbors lawyers are trying to adjust in providing legal help.
"The United States has created a de facto refugee camp right across the border … and attorneys from the United States can't practice law in Mexico, so there's this strange Catch-22 of how do you administer legal services to refugees in another country," said Richard Newman, a Justice for Our Neighbors lawyer based in Harlingen, Texas.
The convocation included accounts of gang violence in Central America that has propelled many to flee. But many speakers emphasized that asylum seekers trying to cross into Texas include Africans, Cubans, Haitians and others.
"We have served people from 28 countries," said Marianela Watson, who works at Good Neighbor Settlement House.
Rebecca Cole, director of grassroots organizing for Church and Society, handed out sample advocacy letters to send to U.S. senators from Texas, calling for Congress to overturn the Remain in Mexico policy. The Rev. Jack Amick, UMCOR migration director, shared tip sheets for those working in United Methodist-related transitional shelters.
Some humanitarian suggestions were highly practical. For example, Susan Hellums, of the Rio Texas Conference and Methodist Border Friendship Commission, said blankets donated for migrants need to be lightweight and able to be rolled up and stuffed in a backpack.
Much of the convocation took place in small groups, where brainstorming and information sharing could occur.
"Good conversation is the agent of deep change," said Tom Stanton, repeating a popular saying at the Texas Methodist Foundation, where he serves as general counsel.
In one small group, Fernanda Casar, who teaches at Seminario Metodista Juan Wesley in Monterrey, Mexico, discussed with Justice for Our Neighbors lawyers the possibility of connecting them with Mexican lawyers and English-speaking Mexican volunteers, so asylum seekers could get help in preparing their applications properly.
Vega made sure each participant left with a booklet containing everybody's email address. He said the convocation will be extended with monthly webinars and border updates.
Rob Rutland-Brown, Justice for Our Neighbors executive director, noted that participants at the first convocation could fit around two tables, while this year's group filled a large conference room.
"What a robust gathering we have," he said. "While the work is daunting, at least we have each other, and we have a growing group who are in this ministry together."
Hodges is a Dallas-based writer for United Methodist News. Contact him at 615-742-5470 or
[email protected]
. To read more United Methodist news,
subscribe to the free Daily or Weekly Digests
.
---
Like what you're reading? Support the ministry of UM News! Your support ensures the latest denominational news, dynamic stories and informative articles will continue to connect our global community. Make a tax-deductible donation at ResourceUMC.org/GiveUMCom.